Home

Products

Liquid Filling Machines

Drink Bottles

RFC404010

RFC404010 Bottle Filling Machine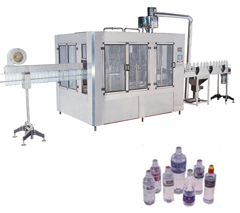 Process:
Bottle Rinsing + Filling + Capping (3-in-1 Style)
1) Designed with bottle rinsing, filling and capping multiple functions.
2) To be used kinds of non-air drinks such as mineral water, pure water, distilled water, wine, fruit juice and tea, as well as oil and vinegar.
3) Of unique design, new style, multi-purpose, easy operation, beautiful construction and automation.
4) Made according to customers' bottle samples and requirements.
Number of rinsing, filling capping heads: 40, 40, 10
Production capacity (600ml): 16,000-20,000 bottles/hour
Suitable bottles: diamter=50-100mm, height=170mm; 330-1500ml
Rinsing pressure: 2-3kg/cm2
Main motor power: 7.5kw
Power of outer vacuum pump: 2.2kw
Dimensions: 4,600x1,800x2,650mm
Weight: 6,800kg