[ - ]
Commercial Water Filtration Systems

[ + ]

Water/Beverage Filling Machines

[ + ]

Blow Molding Machines
[ - ]
Assistant Packaging Equipment

[ - ]

Masks Respirators & Machines

Home

Products

Commercial Water Filtration Systems

BROCII-300LPH






BROCII-300LPH
BROCII-300LPH Water Filtration System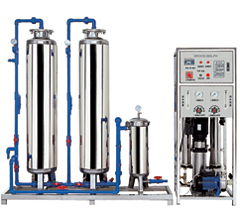 Process:
sand filter + carbon filter + PP sediment filter + booster pump for 1st stage RO + 1st stage RO + booster pump for 2nd stage RO + 2nd stage RO
Specifications:
Filtration capacity: 300 litres/hour, 25 deg.c
Input power: 2.75KW
RO membrane: ESPA4040 2PCS (2 stages)
Multi-stage pump: CDL2-180/2.2KW 1PC
Pre-filter (sand filter): (diameter)300 x (length)1,200MM 2PCS
PP sediment filter: (diameter)200 x (length)5000MM 1PC
Booster pump: BLC70/0.55KW 1PC
Quartz sand: 90KG
Active carbon: 43KG
Dimensions: main body 560x560x1,500MM
pre-filter 1,650x360x1,800MM
Functions:
1) Automatically and manually wash RO membrane.
2) Manually wash RO memebrane with chemicals on machine.
3) Machine automatically stops when high water level of purified water, and runs when low level.
4) Multi-stage pumps protect the machine when lack of water.
5) Protection in such cases as no power, lower pressure, higher pressure, shot circuit, creepage, etc.
6) Large eletric current, creepage protect and so on.