Home

Products

Liquid Filling Machines

5 or 3 Gallons Bottles

B5G-900BPH



B5G-900BPH




B5G-900BPH Water Bottle Filling Machine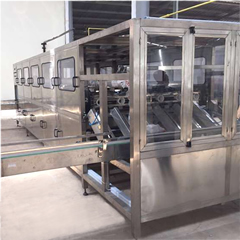 Process:
Bottle Rinsing + Filling + Capping (3-in-1 Style)
The machine includes 4 main parts:
1. Bottle Rinsing Part
Rinsing bottles inside with sterilizing liquid, germless water and pure water.
2. Filling Part
Fully-automatic filling pure water into bottles, controlled by PLC.
3. Capping
Fully-automatic covering and pressing caps on bottles.
4. PLC
SPEC:
Input watt: 15.8kw
Bottle spec.: 270x490x56(diameter) mm
230x460x56(diameter) mm
Bottle volume: 5 or 3 gallons
Cap spec.: 58(diameter)x40mm
Bottle rinsing capacity: 900 bottles/hour
Filling capacity: 900 bottles/hour
Dimensions:
Rinsing section: 5,126x2,060x2,050mm
Filling section: 3,265x800x2,050mm
N.W.: 1,250kg