VCF60 Vertical Carton Erector | Box Erecting Machine | Case Former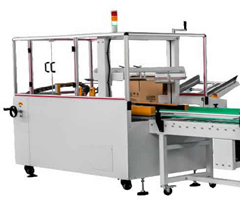 Vertical Carton Erector | Case Former
This is a fully-automatic carton erector and operates in a continuous cycle: opening a carton, sealing the bottom with tape or hot melt glue, squaring and exitting the box.
This case former is built with coated carbon steel frame and enclosures in default, but is possible to be customed with grade 304 stainless steel.
Specifications:
Erecting capacity: 5-10 boxes/min
Applicable carton size: 410mm<L+W<910mm, W180-390mm, 620mm>W/2+H>310mm
Carton material: 3 or 5 layers corrugated cardboard
Erecting type: vertical
Power: 400 W
Compressed air: 6 kgf/cm2
Air consumption: 200 NL/min
Carton storage: 50 pcs
Features:
1) Simple and reliable, easy to operate
2) Easy to change if a different box is used.
We also have horizontal high-speed carton erectors.