BLP20 Robotic Box Palletizer | Case Palletizing System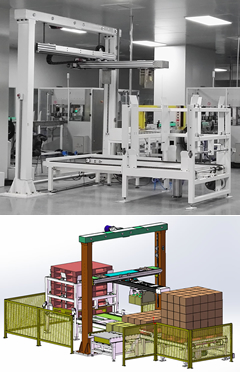 Low-level Robotic Carton Box Palletizer
| Case Palletizing System
This is a low-level palletizer and used to stack sealed cases/cartons in order on a pallet. It works automatically and cartons can be stacked on a pallet by multiple layers. It employs a touch screen PLC controller and is easy to operate.
Composition:
1. Carton sorting feeder
Sort cartons according to a set pattern and then convey them.
2. Carton palletizer
Catch sorted carton(s) and then rise, move and put it/them on a pallet.
3. Pallet storage and feeder
5-10 empty pallets can be stacked in the storage section. Pallets are fed to the palletizer according to the PLC setting.
4. Loaded pallet deliver
When a pallet is loaded fully, it will be delivered to an designated location.
Specifications:
Type: low-level, coordinates
Max palletizing capacity: 7 cycles/min (1-4 cartons per cycle which depends on the carton size and weight)
Power supply: 3 phases, customized voltage, 6KW
Air consumption: 500NL/MIN
Air source pressure: 5-6 kgf/cm2
Weight: 2,000 kg