BAW2000 Pallet Stretch Wrapping Machine | Rotary Arm Stretch Wrapper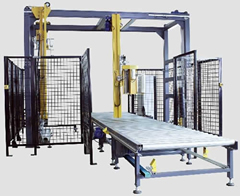 Pallet Stretch Wrapping Machine
| Rotary Arm Stretch Wrapper
This Rotary Arm Stretch Wrapper is an ideal assistant machine to a production line and a necessary part of an automatic packaging line. It is widely used in chemical, electronics, food, beverage and papermaking industry.
No-human operation. Loaded pallets feeding, film loading, wrapping, film cutting, pallets exiting, all works automatically.
It employs a touch screen PLC controller. Automatically caution alert and faulse alarm. Easy to operate and durable.
Type: rotary-arm, fully-automatic, pre-stretched
Applicable loaded pallet: (500-1300)mm*(500-1300)mm
Wrapping height: max. 2000mm
Wrapping capacity: max. 30 pallets/hour (depends on the pallet size)
Arm rotating speed: 15 circles/min
Weight: main body 2200kg
Wrapping material
1) Stretch film material: LLDPE
2) Thickness: 17-35μm
3) Width: 300-500mm
4) Film roll core diameter: 76.2mm
5) Film roll outer diameter: max. 260mm